7 Trending Flooring Types for a Stylish and Durable Home Makeover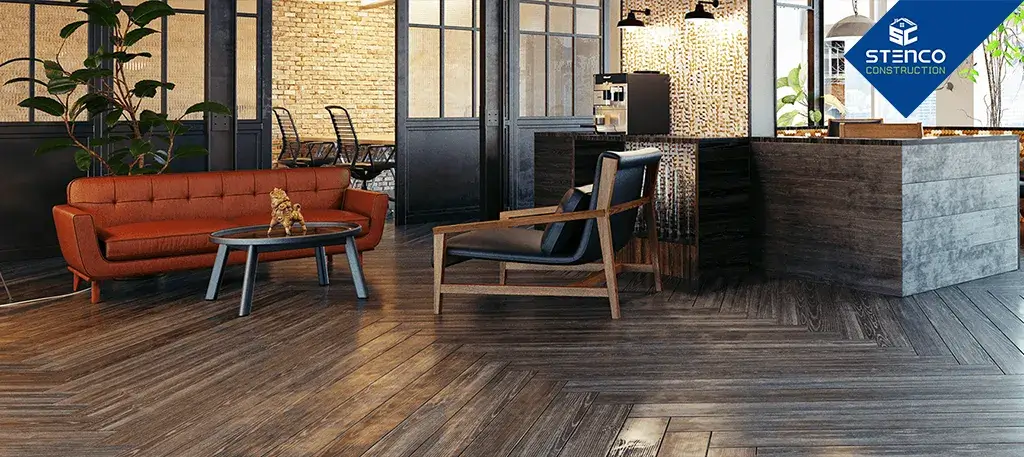 Choosing the right flooring is one of the most important decisions regarding home makeovers. Not only does it affect the overall aesthetic of your space, but it also impacts the functionality and durability of your floors. With so many flooring options in the market, deciding which one to go for can be overwhelming. We will discuss each flooring option's characteristics, pros, cons, and popular trends to help you make an informed decision. Whether you're renovating your home or building a new one, this article will provide valuable insights on the latest flooring trends and what to consider when choosing the right flooring for your space.
Hardwood Flooring
A solid piece of milled wood is used to create hardwood flooring, which is composed completely of solid wood. Popular hardwood species include cherry, walnut, oak, maple, etc. It is a popular option for many home buyers due to its versatility and great quality. It is, nevertheless, one of the more expensive types of flooring. It takes ongoing maintenance to keep them looking great, such as hiring a specialist to clean your hardwood floors once a month and applying a new finish every three to five years.
Pros
Cons
Expensive

Can incur scrapes, scratches, and dents in high-traffic areas

Susceptible to moisture damage

Not suitable for bathrooms, laundry rooms, and basements
Engineered Wood Flooring
Engineered wood flooring looks like real wood but is less expensive than solid wood. A thin layer of hardwood is bonded over a high-quality plywood base to create the floor. It is as strong as real hardwood flooring and may last as long if properly cared for. Engineered wood flooring is an excellent alternative for do-it-yourselfers since it saves money on installation fees.
Pros
DIY-friendly

Has real hardwood top layer

Greater resistance to moisture and water than real wood

Less likely to warp

Multiple installation methods
Cons
Can't be refinished more than once

Not fade-resistant

Wide variation in quality

Can sound hollow underfoot

Emits VOCs
Laminate Flooring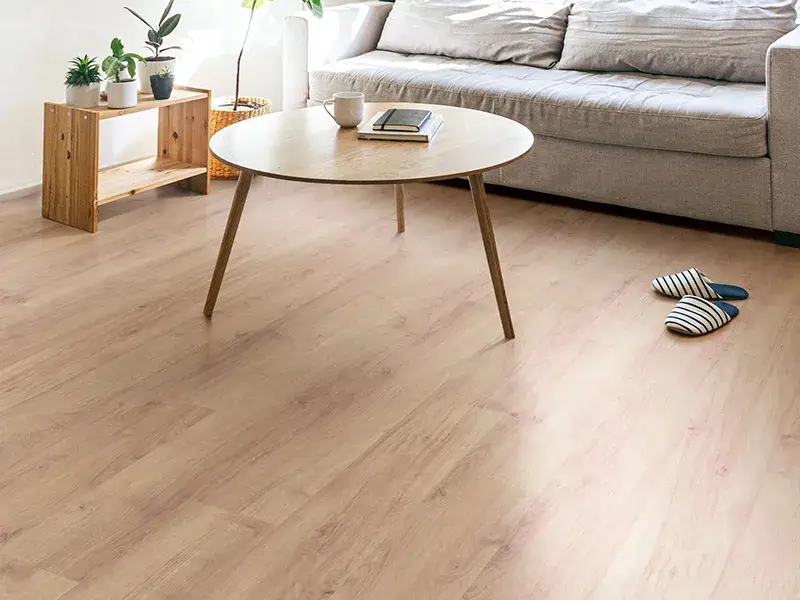 Laminate flooring is an economical option for homeowners who desire an alternative to carpet but do not want to pay the high prices of hardwood or tiles. The floors have a particleboard wood foundation with a wood or tile picture on top, all protected by a transparent plastic coating. This flooring is incredibly easy to install, and it comes in a variety of textures and colors.
Pros
Inexpensive compared to wood

Easy to clean

Scratch-resistant

DIY-friendly for experienced homeowners (and if the subflooring is in good shape)

Many styles and colors are available
Cons
Susceptible to moisture damage

Chips easily

Does not look and feel like wood
Vinyl Flooring
Vinyl flooring is exceptionally water-resistant and will not be damaged even if water remains on the surface for a lengthy period of time. It is made of plastic and is available in plank, tile, and sheet form. Because of their durability and range of forms, luxury vinyl plank (LVP) and luxury vinyl tile (LVT) have lately acquired appeal.
Pros
Good for kitchens, bathrooms, laundry rooms, and basements

Durable

Water- and fade-resistant

DIY-friendly

Many design choices are available

Easy to maintain
Cons
Tile Flooring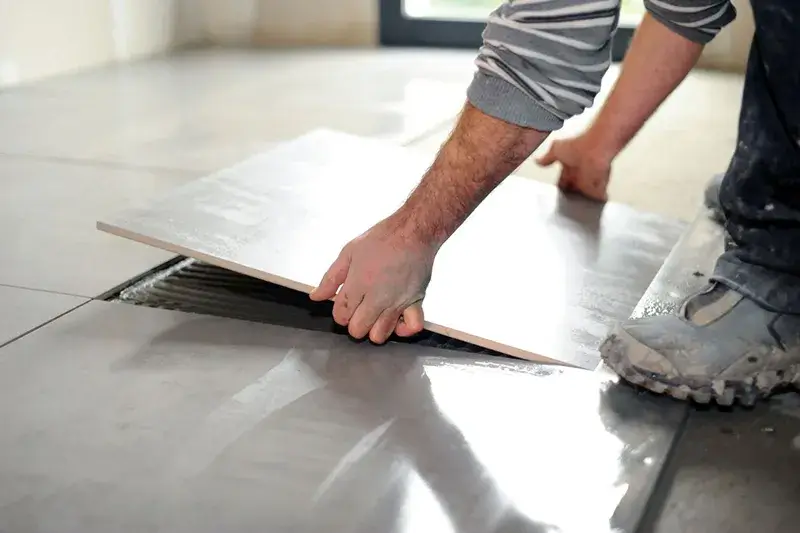 Tile flooring is common for wet spaces such as bathrooms and kitchens. Ceramics and porcelain are the most frequent tile materials. The tile is water-resistant, long-lasting, and available in various shapes and colors. The installation cost varies according to the material; glazed ceramic is less expensive than porcelain tile.
Pros
Waterproof

Durable

Long-lasting
Cons
Stone Flooring
Natural stones like granite, marble, travertine, and sandstone are popular indoor and outdoor flooring alternatives. Stone, like pottery and porcelain, is incredibly durable and water resistant. The stone's finish determines the care required to preserve the floor. However, stone provides natural beauty and quality that most other forms of flooring do not.
Pros
Bold and elegant

Long-lasting

Waterproof
Cons
Linoleum Flooring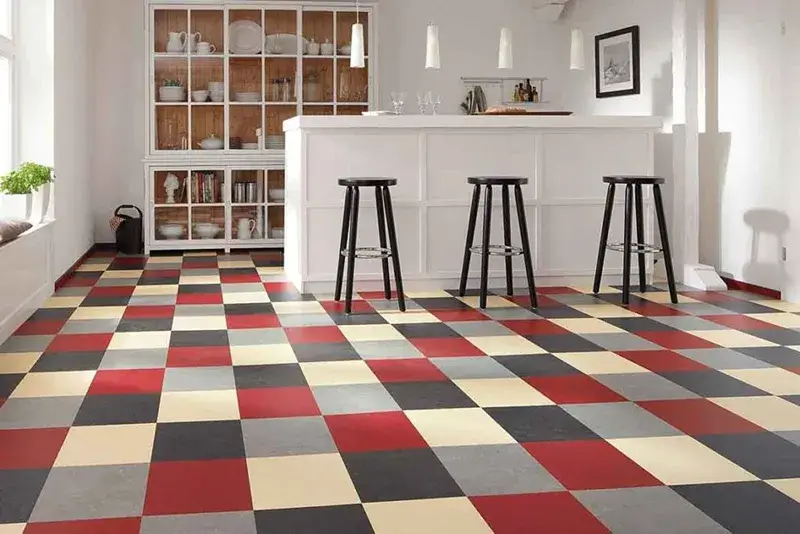 Linoleum is a long-lasting, environmentally friendly flooring material manufactured from linseed oil and cork. Linoleum flooring is inexpensive and simple to install. Sheet flooring is available in a variety of colors and designs. It is robust (made of elastic materials) and may survive for decades if properly cared for. Linoleum is becoming increasingly popular as flooring makers provide new colors and styles.
Pros
Inexpensive

Eco-friendly

DIY-friendly

Available in a variety of colors and patterns

Requires little maintenance
Cons
Does not increase home value

Easily dented or cut

May darken or turn yellowish when exposed to sunlight

Not suitable for moisture prone-areas
Bottom Line
Choosing the greatest flooring for your home isn't as simple as picking the one that looks the nicest or is on sale. Moisture, durability, maintenance, and affordability are all important considerations. Because a new floor is an investment, your selection should balance your demands with your taste. Our professional floor installation and repair contractors at Stenco Constructions are here to provide you with the best service in NYC. Don't wait until it's too late. Contact us today to schedule a free consultation and estimate.