Top 9 Flooring Ideas for Your Home - Flooring Renovation
Interior
December 8th, 2022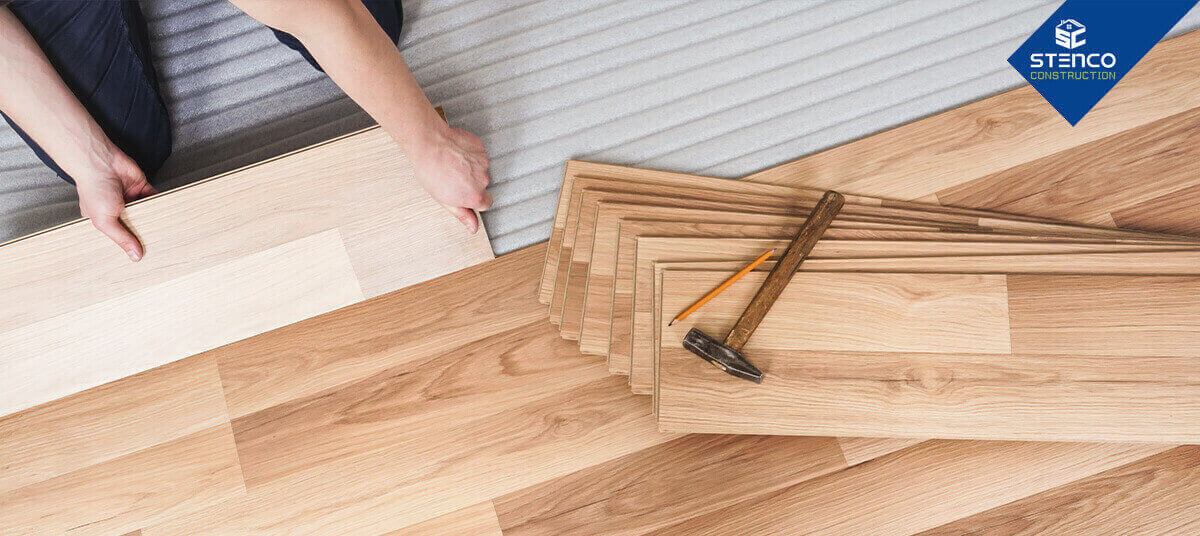 The floor is an important aspect of your house and interior design; it influences both the appearance and feel of a room. So, if you're building or renovating a home, it's worth taking the time to choose the appropriate floor. A floor must not only look attractive but also perform various purposes depending on the room. Continue reading to learn more about different types of floors and how they work. A few house components mix form and function as well as flooring. It's literally all over you, but it's also an important design element, just as visually significant as paint colors and furnishings. Then there's the question of cost, especially if you're renovating your entire home's floors.
Our complete flooring guide walks you through all of the options and prices for the best types of flooring for your home. Keep in mind that, depending on the room and your demands, most houses have multiple flooring materials.
Hardwood Flooring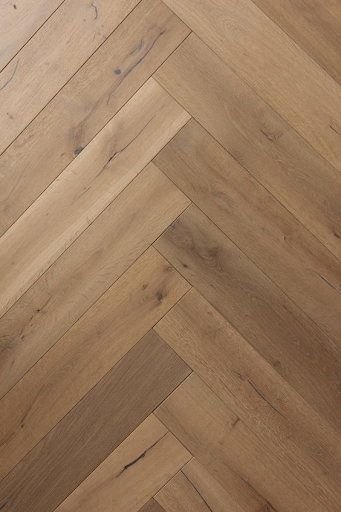 There are two varieties of hardwood flooring: solid wood flooring, which is made of a single solid piece of wood, and engineered wood flooring, which is made of a thin veneer of actual wood attached to layers of structural plywood. Both types are available in up to fifty different species, with oak, ash, maple, and walnut being some of the most popular. The warmth and beauty of hardwood floors explain their long-lasting popularity. A well-maintained hardwood floor can last for decades, if not centuries because it can be sanded and refinished several times.
Laminate Flooring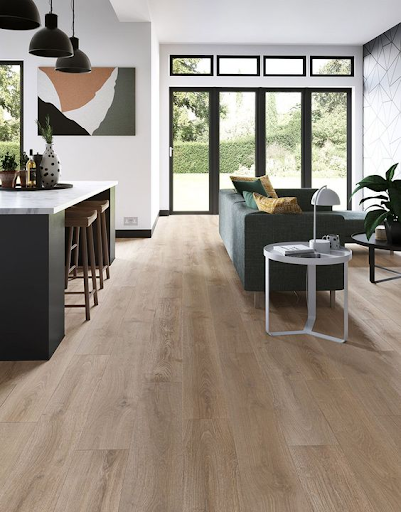 Laminate is another designed product, but instead of a wood veneer on top, it employs a picture of wood or stone or any other material with a protective plastic layer. The substrate of laminate flooring is typically dense fiberboard. Because of the plastic topcoat's resistance to scratches and dents, laminate is one of the most durable flooring solutions. It's also one of the least expensive, and it's frequently available as a DIY-friendly "floating" floor system, with planks that snap together rather than being fastened or glued down.
Vinyl Flooring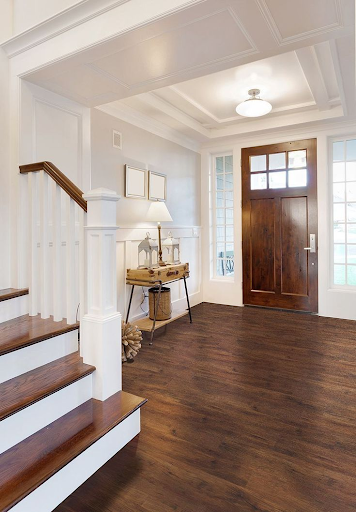 Vinyl, often known as resilient flooring, is the fastest-growing flooring type. It ranges from low-cost, do-it-yourself peel-and-stick tiles to luxury vinyl tile, which has numerous layers, including a design layer with a high-definition printed picture, a durable top layer, and several cushion layers. Sheet vinyl for beginners is fairly inexpensive. All vinyl is stain, scratch, and dent resistant, as well as waterproof, making it suitable for basements and bathrooms. Installation is simple, especially with sticky tiles and floating planks.
Stone Flooring
Stone, like wood, is a classic flooring material that almost always adds value to the home. Flooring is made from three different types of stone. Sedimentary stones, such as travertine and limestone, are created by layers of dissolved minerals and marine organisms. Igneous stone, such as granite, is formed as a result of intense heat and volcanic activity. Metamorphic stone, such as marble and slate, has transitioned from one state to another due to severe heat and pressure. Stone flooring has a lot of charm and individuality. Stone is also a long-lasting material that can tolerate strong foot traffic and fade in the sunshine.
Concrete Flooring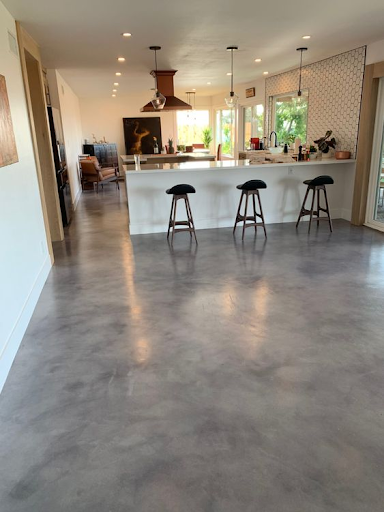 This basic building material has been grasped by high-end builders and designers as a fashionable material for flooring and kitchen counters. A poured-in-place concrete floor might be the anticipated hue of institutional grey or dyed. Concrete floors are durable and simple to maintain, provided they are properly sealed upon installation. Because the material conducts heat well, concrete floors are an excellent choice for radiant heating, in which hot water tubes are embedded in the flooring during the installation process.
Tile Flooring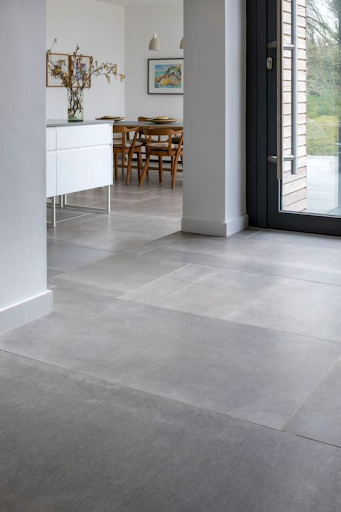 Ceramic and porcelain tile floors are the two most common varieties. Ceramics are often manufactured from a combination of water and sand, making them softer but less expensive. Porcelain is a finer, denser clay that is fired at a higher temperature, making it naturally tougher and less porous. Tile floors have a classic appearance and will be available in a variety of colors and pattern configurations, ranging from mosaics to large-format tiles with minimum grout lines. All of the tiles are water-resistant and low-maintenance.
Linoleum Flooring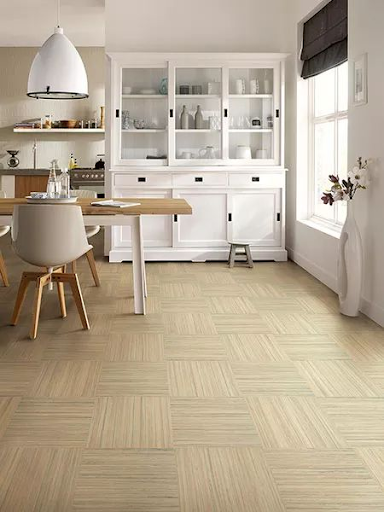 This all-natural flooring is manufactured from linseed oil and wood components. It is available in tiles or sheets, similar to vinyl, but it is not as widespread as its more robust relative. Along with the distinctiveness and nostalgic charm of linoleum, its sustainability is a major selling factor. The most recent versions are available in far more styles and colors than previous generations. Linoleum is extremely soft underfoot, making it quite comfortable, and it resists fading from sunshine.
Flooring Renovation Services NY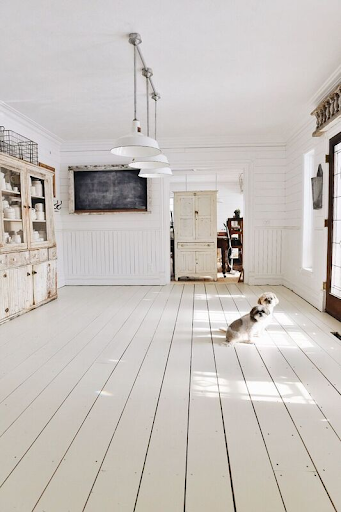 Stenco Constructions provide hands-on flooring renovation solutions, and our team has the experience and expertise to make your vision a reality. Flooring Renovation Bayside Services Ny provides free quotes and will work with you to find the greatest renovation plan for your floor that meets your needs and budget. We provide a wide range of flooring solutions to meet all of your requirements. Here is a list of services we provide to our clients for flooring repairs and restorations:
Laying of ceramic tile flooring

Installation of hardwood flooring

Refinishing of Hardwood floors

Installation of baseboards and other flooring accessories
Discuss with us your floor concerns for an immediate on-site survey and precise quote. As an environmentally conscious company, we use low-dust technology for floor renovation and get fantastic results. Stenco Constructions is a client-focused organization that focuses on providing high-quality services at a low cost. Improve the appearance of your property without breaking the bank! Speak with a flooring expert of ours right now. We address all of your flooring concerns. Contact us to learn more about our floor renovation ideas and services.