How does a Kitchen Renovation Boost your Home Value?
Interior
November 18th, 2022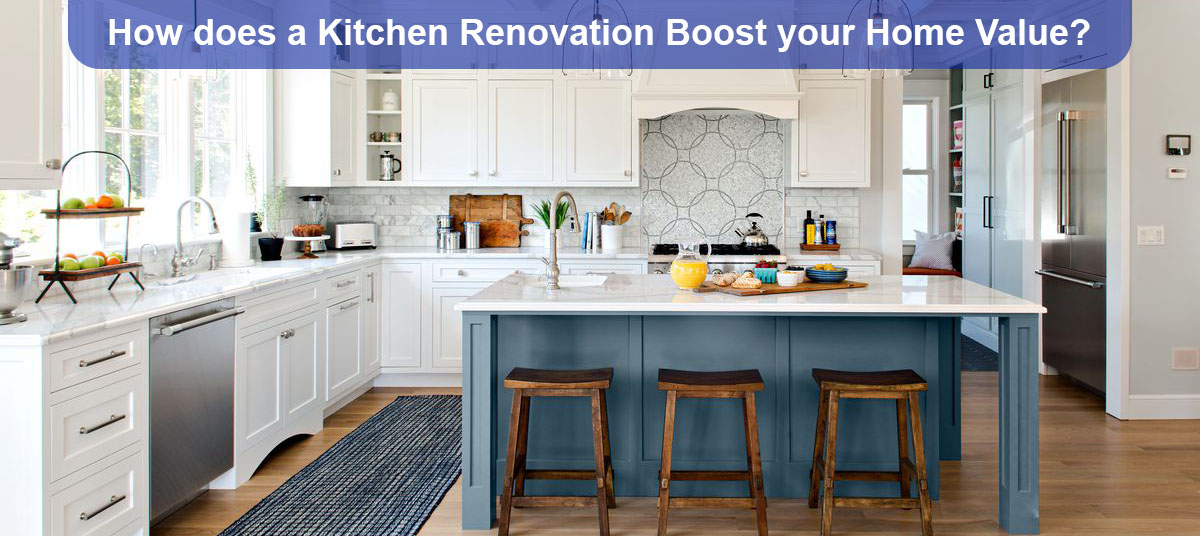 If you want to boost the value and functionality of your house, a complete kitchen makeover is one of your most outstanding options. Why? The kitchen, after all, is considered the heart of every modern home. Furthermore, if you intend to sell your home, renovating your kitchen will attract a large number of purchasers who are eager to pay the right price. 43% of homeowners are fed up with looking at their old kitchen. If you fall into that category, this article will answer your questions regarding the different ways a comprehensive kitchen renovation might boost the market value of your home. Continue reading to broaden your kitchen viewpoint while learning some strategies for creating your dream kitchen without spending too much.
What Are the Most Important Kitchen Renovations That Raise Home Value?
If you intend to do your own fast kitchen remodeling, you must first determine which tasks must be prioritized in order to avoid firing arrows in the dark. In addition, your limited funds will be put to good use in improving the function and beauty of your little kitchen.
Cabinet Refinishing and Refacing
Instead of spending hundreds of dollars on new wall-hung and base kitchen cabinets, just reface them and update the hardware and final finish. If you go forward with new cabinet installations, you could spend $5,000 to $7,000, or 29% of your total kitchen redesign costs. Meanwhile, refacing and refinishing your cabinets will only cost you 10% to 15% of the price of new cabinets.
Refresh Your Kitchen Countertops
Don't be tempted to install granite or quartz slab kitchen countertops directly. These are expensive options. Instead, choose less expensive materials such as laminates, granite fragments, tiles, or Formica, which will still give you a great appearance. Similarly, for your kitchen counters, you might use low-quality stone slabs or porcelain.
Backsplash Tiles in Modern Style
A new tile backsplash with geometric shapes and dynamic color palettes would look great with your newly refaced cabinets and kitchen counters. We can install similar color tones with your countertop to create a seamless transition if you want to attain a streamlined look in your small kitchen. Furthermore, the labor cost for tile backsplash installation is substantially lower than the labor cost for the other aspects of your remodeling.
Purchase New Kitchen Appliances
Approximately 69% of market purchasers would pay more if they noticed new appliances in your modern kitchen remodel. Installing new double ovens, four-burner gas ranges, refrigerators, and other appliances improve kitchen functionality while also assisting your client in realizing their vision for their next future kitchen. You can also look for stores that provide discounted prices on kitchen equipment to save even more money.
Don't Ignore Kitchen Lighting Fixtures
Similar to tile backsplash, having good lighting in your kitchen cannot be overstated. As a result, having superb lighting highlights the texture and colors of your kitchen items and fixtures. We can use this to add hanging ceiling lights, recessed lighting, and lighting beneath your cabinets. Overall, the cost of adding light fixtures in your kitchen should be no more than 5% of the total budget for your kitchen redesign.
New Kitchen Faucet and Sink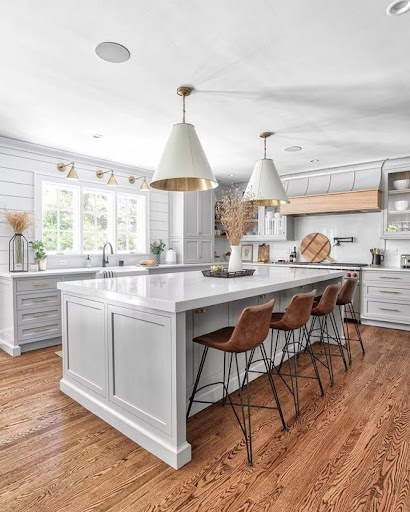 Getting a new sink counter and faucet is critical because it is very visible to viewers and potential buyers. Furthermore, it is a high-traffic area in your kitchen, so you should improve its aesthetics and functionality for long-term savings. So far, the average cost of installing a new kitchen sink and faucet (material + labor) ranges between $390 to $2,000, depending on size, type, and extra amenities. Our staff can install a variety of sink types, including bar sinks, self-rimming sinks, under-mounts, and apron-style sink counters.
Will Your Kitchen Renovation Raise the Value of Your Home?
If you are doing a modern kitchen renovation in order to place your house on the market, you are making a strategic decision, because buyers are more eager to acquire when they perceive functional upgrades in the property. In addition, 80% of market purchasers regard a recently finished kitchen to be one of the influencing aspects in selecting and valuing a property. So far, the industry standard ROI for a mid-range kitchen makeover is between 50% and 60% of your total remodeling investment. For example, if you spent $69,000 remodeling your kitchen, you may expect to recuperate between $34,500 and $41,400. Meanwhile, if you choose a minor kitchen upgrade, your ROI is predicted to be 75% to 80%. For example, if you spend $24,000, your recoup will be between $16,800 and $19,200.
Moreover, the estimated ROI on your kitchen upgrades will be affected by your location. For example, if you live in the Pacific area, your predicted recovery is 93%, whereas the national average is 68%.
Schedule a Free Consultation
We hope you enjoyed reading this post and gained a lot of knowledge about the topic. If you haven't discovered a dependable kitchen remodeling business yet, contact us here at Stenco Constructions. We have vast and world-class experience remodeling kitchens. Furthermore, we have highly trained kitchen designers and contractors on hand to help you realize your opulent kitchen remodeling fantasies. Eventually, by calling our office now, you can take advantage of our free design and consultation services. It is our objective to assist you in realizing your ideal kitchen at a fair cost.