Home exterior renovation and remodeling solutions
Exterior
November 11th, 2022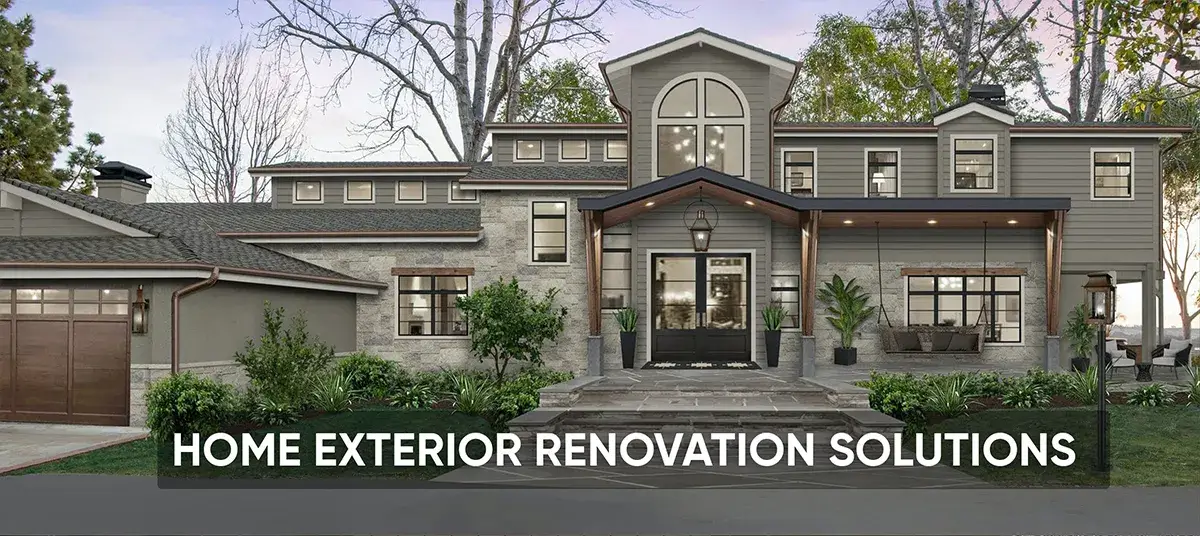 Exterior remodeling might be frightening, especially if this is your first major restoration project, but it is well worth the effort. An exterior redesign can radically modify the appearance of your home, better protect you from unwelcome damages, and cut your energy expenses while increasing the value of your home. Full exterior restoration is no small task, but when done well, it can drastically transform the look, function, and value of your home.
Stenco Constructions is known for providing really comprehensive and seamless home renovation solutions, including all installation, repair, and maintenance services that clients may require for their houses' exteriors. We can, for example, handle everything from large-scale exterior remodeling projects like home expansions to routine maintenance. We can install, repair, or maintain any outside component of your property.
We frequently work on the following exterior home elements:
Roofing
Stenco Constructions covers everything, from skilled roof installs for new-construction homes to roof replacements, repairs, and upkeep. We have worked with a wide range of residential and commercial roofing materials, including asphalt shingles, metal, tile, cedar, slate, EPDM, TPO, and many more.
Gutters
We may repair leaking gutters or replace them entirely as part of our exterior remodeling services to ensure they successfully drain rainwater away from your property. We also provide routine maintenance services like gutter cleaning. Alternatively, you can have one of the premium gutter protection systems installed, which will eliminate gutter blockages for good.
Driveways
Our driveway services cover all installation, repair, and maintenance services, such as tear-outs and blacktop installation, as well as concrete sealing and edging. Our concrete professionals can assist you in designing the ideal driveway, considering size, shape, placement, and other factors.
Fencing
We have the right answer for installing a fence to provide seclusion on your property, enclose a new pool, or restrict your pets from escaping the yard. You'll be able to choose from a wide range of materials, including vinyl, metal, and wood, as well as a choice of aesthetic options.
Siding
It is an important component of your home's curb appeal and defense against the weather because it makes up the bulk of its exterior. We offer siding installation and repair services for a variety of cladding materials, including vinyl, wood, fiber cement, stone, brick, and stucco, as well as maintenance services such as painting and cleaning.
Windows
Our replacement window services are tailored to our customer's specific requirements. We can handle everything from low-cost glass inserts and frame repairs to full-frame replacements. Stenco Constructions experts will work with you to find high-quality affordable solutions for your window replacement project.
Get Started with Your Project
The exterior remodeling solutions described above are far from exhaustive and represent only a portion of what we can offer our customers. We endeavor to give fully customized solutions as well as honest service. For example, we will always recommend the most affordable alternative that will successfully answer our customers' problems. We can handle everything from custom-building a new deck or patio to repairs and maintenance, such as cleaning, painting, and sealing your existing outdoor living structure. Furthermore, we ensure that all work is executed to the highest quality standards by employing only trained installers with years of expertise. When the renovation is straightforward. So, why not give it a shot for us? We are customizing everything for you. Because we cherish our clients. Stenco Constructions will constantly strive to provide you with the finest service possible. So, when you come to us, just know that you don't have to do anything else. Our specialist will handle everything. Come today and give your space a new direction and shape. Don't be shy. We guarantee the best. Our main focus is on quality.